Nope, I don't believe there's an "Official Hallmark" day as such, but I am declaring today my Husband's Day. At the moment I can't remember what made me think of this today in particular, other than I love and appreciate my husband.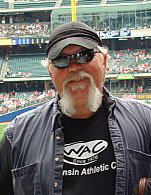 I affectionately refer to him as my "Cabana Boy"—and he does a fine job at that I must say. While it's a shared responsibility, the patience and tolerance that he has caring for his 94 y/o father who lives with us is beyond reproach.
He does the laundry (most of it being his gym clothes), he washes the dishes when I haven't and he runs around doing errands when I can't leave my desk (which is 96% of the time!).
Don't get me wrong, he's no angel. He's a staunch conservative and is not afraid to tell you what he thinks—which is always the right way of course. He speaks loudly and doesn't need to carry a big stick. Picture Archie Bunker in the 21st century meets the Hulk meets James Dean (hence his nickname, jmedn).
There is no such thing as "political correctness" —he tell things like they are, no hiding behind the B.S.
But if he is your friend, you will not have a more dedicated and compassionate guy on your side. He will go above and beyond for you. Just don't betray him.
And what he does for me? He understands my quirks, my opposites (after all, he was fully aware that he was marrying a hippie-girl—peace, love and all that) and most times knows exactly what to say at the right time and how to say it. I don't know that I would still be alive if it wasn't for him.
But I'll save all of the mushy, lovey-dovey stuff for Sweetest Day, or Valentine's Day, or even for our 34th wedding anniversary in a couple of months.
I just wanted to celebrate today for him. Viva la my hubby's day. I love ya baby!