Jim wrote his Dad's obituary last night—just getting prepared. We've been preparing for Lenny's passing for the last week or so.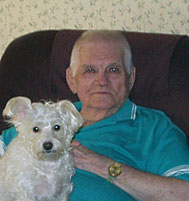 As some of you may know, Jim's Dad has lived with us for the last 13 years, ever since his wife died. We wanted him close to us and not 500 miles away in Northern Wisconsin.
He adapted to the change quite remarkably. From being the Man of the House in his own castle, to a milder version of himself. He always said "when in Rome…" when asked how difficult it was to make the move and relinquish his role as Head Honcho.
He was a strong man, accustomed to putting in a good, hard day at the factory and coming home to have dinner ready and waiting for him. A booming presence of a man who had a tendency to speak loudly and yes, carry a big stick. A man whose wife frequently threatened the kids by saying "Just wait until your father comes home!" when they were acting up and being naughty.
He was kind, and we always thought that he looked like Ronald Reagan when he got that crooked little smile and a twinkle in his bright blue eyes.
Up until about 4 years ago, when he was 91, he still went to the gym a few days a week with Jim. He walked on the treadmill, lifted weights, and then had a little coffee klatch with the other guys while he waited for Jim to finish up.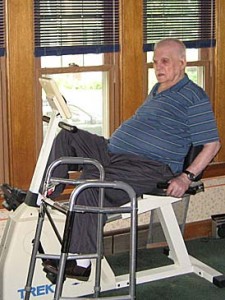 Little by little his body got older… macular degeneration messed with his ability to read the morning paper. His hearing aids barely seemed to work anymore, and when his balance frightened him, when he felt like he was going to fall, he stopped going to the gym.
He began riding on the stationary bike at home to loosen things up and to break up the monotony of just sitting in his chair 24/7. It was climbing off of the bike last May that caused him to fall and fracture his shoulder. While in the hospital they discovered that his colon cancer had re-emerged from many years ago. His doctor, a pragmatic gerontologist, suggested that we put him in home hospice and continue to love and care for him in the comfort of our home.
Seems like it's been a pretty fast ride since then. Jim and I began to stay at home in shifts. Never left him home alone – we couldn't trust that he wouldn't lose his balance by himself, even with using a walker to get around. Along with his dignity, he occasionally lost control of his bladder. Jim and I helped him on the potty. Helped him to eat when his hands shook too much to get the spoon to his mouth. Jim became his anchor in the shower, often getting just as much water on the bathroom floor as on Lenny.
Once his favorite pastime of all, watching sports on TV (especially his beloved Brewers & Packers), he now couldn't enjoy it because he couldn't see/follow it on the screen or hear the play-by-plays. So he sat. Often drifting off to sleep throughout the day. And sat… shifting frequently to relieve the pressure on his butt.
Pretty soon he was requesting to go to bed earlier and earlier. At least he could stretch out and sleep away the time. His time. The time that he began to resent. The time that he questioned – why the Good Lord was allowing him to sit out his time. He often said that he was "just waiting."
"Waiting for what?"
"Oh, just waiting for the Good Lord to take me away."
Two weeks ago he was shaking so badly it was inhibiting his ability to walk without sinking to the floor. We called his home health care nurse, wondering if it had anything to do with his medication. She suggested that we bring him in to the inpatient hospice so they could try adjusting his meds. We've been told that "this was it." He had "terminal restlessness." He wasn't eating. He was "resting comfortably."
Then in the blink of an eye he was wide awake. We talked, he ate with assistance, and he was incontinent. The next day he was confused, talking to his imagination and old friends that only he could see. He was all over the place. Then he was unresponsive.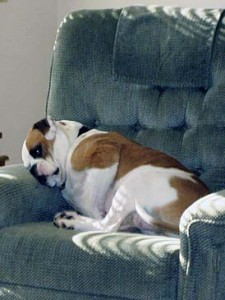 We did get to talk to him the other day… soft spoken, staring into space but he knew it was us. We told him the dogs were missing him and that Rosie had taken residence in his chair. He got that quirkie little smile, just barely, but his eyes didn't twinkle anymore.
We believe that was his last conversation with us. We were given a few more minutes to look into his eyes, swab his mouth with water, and to tell him about the dogs. And the Packers. And to say goodbye one more time.
Now he's unresponsive again. And o-so-thin. Even with my experience in taking care of dying patients, it shocked me when I felt his chest and my hand dropped from his ribcage down to near nothingness. I felt like I could have slipped my fingers under his ribs and touch his heart beneath the skin.
He looks as if he's comfortable. Just sleeping. Not sure if he's dreaming. Who really knows? But every time the phone rings, our hearts jump a little. We're happy for him. We want him to go and reunite with his wife. We want him to feel joyful again and to not feel like a burden any longer. We want him to go and feel like the proud man that he was.
We'll miss Lenny. The man and father that we loved. That's the sad part, of course it is. But he deserves to leave us now. We love you with all of our hearts Lenny.
*Lenny passed away Sunday night, 1-17-2010