I gave my old pc to my stepson, who came over today to pick the stuff up. We also went upstairs (now rather deserted since Jennie moved out) to see if there was anything else he could use in his apartment. There really wasn't anything else, but I did find a cardigan-like top that I had drawn on for Jennie when she was 11 yrs old. I was lookin' for that thing too! Gotta show you (click for a couple shots of it)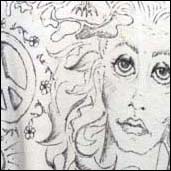 Know what else was kind of funny? I talked to Jimmy on the phone tonite, and he said that when he powered up the pc, he was instantly transported back to our house 'cos when the fan kicked in, the "Cherry St. Potpourri Smell" wafted into his room. Well, it could have been worse… at least it didn't smell like sauerkraut or something, right?
Have a great Monday everyone.