The other day I flopped next to hubby in the living room and prefaced what I had to say with "I'm just throwing this out there – don't take it too seriously, k?"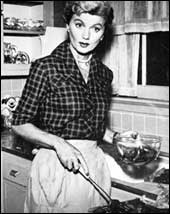 So now that I had his attention, I said how when I was cleaning the stove, I kinda liked it… made it all shiny and clean n' everything. Then I was on a roll, and polished all of the stainless, and even started dinner. But that's where it stopped. Time up. Had a deadline to complete with a web client… ok. Party's over.
So what I actually said to him was "I wish I didn't have the business, and just worked a couple of days at the hospital, then I could be all domestic and stuff again. Shop, clean, cook…. wouldn't that be nice?"
"YA, r-i-i-i-g-h-t. That would last about a week. You wouldn't be able to quit doing your computer work even if you were paid to quit!"
"Hmmph. Well, I don't know about that, but it sure sounds like a lovely change for awhile, ya know?"
Then I hopped off of the couch, leaned over for a "you're my buddy" kiss, and trotted off back to my office. It's nice to have those heart to heart talks on occasion, ya know?