To help compensate for my recent change of work routine (sitting vs running), I have throttled back on my carb consumption. I am a carbohydrate addict… more specifically, a bread addict… a Brownberry Oatnut addict. I was eating about 3-4 slices a night. I know that might not sound like a big deal, but add that up, nite after nite – late at nite – plus, the act of doing it… against promises to myself, not in control, stuff like that, it was a big deal. For me. Not to mention, even though the nutritional value is not bad, there are still calories that add up, and calories = lbs = weight. Which brings me back to the sitting vs running.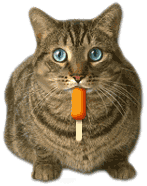 I need to exercise more. My key-typing fingers are fine, it's the rest of me that is getting fat. I have gained 20 lbs in the last year or so (whoops, can't use the job change for an excuse, can I?), but I predict a growth if I don't change my routine. You heard it here folks. Gee, maybe I could turn this into a "my weight-loss-diary" kind o' blog, and post lovely progress pho-tos… mmm, no. Although I must say, personally, I enjoy looking at before and after pics when I need a little motivation once in awhile…. ANYway, that's not gonna happen here.
So I started eating my sugar-free popsicles again. I ate them a-l-l-l  the time a couple of years ago, hence the popsicle eating kittykitty. They're perfect when I get a sweet attack. Problem is, and I remember it now, is that my innards seem to have a problem with the Splenda if I consume too much… it bubbles and rumbles all over the place. So I think moderation is the key even with the popsicles.
Shoot. It's 0700 already. I got up at 0500 so I could get an early start with work, and I've putzed around all morning so far. dagnabbit. Hey, did Philly win? OH, that's right, rained out. I think it was on purpose. Yup, a pre-arrangement with Mother Nature and the TV station… gotta keep the World Series on, more money more money. Geesh, I gotta GO! xoxo