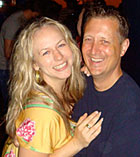 Today is our Thanksgiving Day and for some reason, I'm kinda nervous about co-ordinating the cooking to have everything ready in sync. It just dawned on me that it's probably because for the last 3-4 years I've been baking the turkey the day before so that all I have to do on Turkey-Day is the "other" stuff since the bird is all nicely sliced and ready to heat up.
Yup, this is the first year we had to adapt to the "other family" situation Jennie's boyfriend's family who lives out of state got Thanksgiving Day this year. Aren't they c-u-u-ute?
I'm sure everything will be fine food-wise, I just don't like feeling stressed about cooking a darn turkey…
In fact I think I'm supposed to be doing something right now… like, making the stuffing or pulling the gizzards out or some darn thing.
Did I tell you the very first time I had Thanksgiving at my house (many many moons ago) I left everything inside the bird? I didn't know that they stuffed the "head" area with bags of things. It turned out fine though, just as this one will.
So Happy Thanksgiving Sunday everyone!