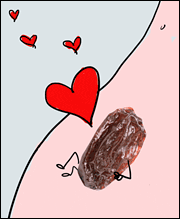 Which comes first, the baby or the laptop?
Things have been a little hectic around the Kitty household these days. **Baby Raisin is due to appear any day now. In preparation of my staying with Jennie & Brian the first couple weeks after Raisin's birth, I bought a new laptop and am tediously trying to get everything work related from desktop to the laptop. I'm also trying to clear my palette of current projects before I leave. Ack!
Of course every day that passes is another day closer. hurryhurryhurry… and since it's a 3-4 hr drive to Babyland, once we get The Call from Jennie, we're outta here! There's a lot of "hopefully(s)" that come to mind. Hopefully it won't be during rush hour in Chicago. Hopefully it won't be in the middle of the night and we can't take the dogs in for boarding until they open… hopefully it won't be a super-fast, extraordinary-for-first-baby delivery (sorry Jennie) (for you I hope it will be)… and on and on.
Ultimately it all doesn't matter. What matters is the birth of our first granddaughter. The health of our daughter & baby. The miracle of birth. Is there really anything else?
**When Jennie found out she was pregnant, the baby books said baby was about the size of a raisin—hence the name "Baby Raisin."  And since Jennie & Brian won't reveal the name they have chosen for her she remains Baby Raisin. Hubby says he's going to call her that anyway, regardless.
;)