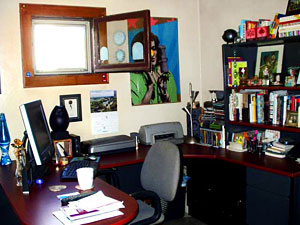 Oooo, ooo, I just had a blinding idea—literally! One of my office windows is above me and to the right, facing west. In the afternoon, the sun gets pretty bright (and hot) when it's directly on top of me. Sooo, what I thought would be really cool(er) is to hang some sort of beaded curtain… one that would still let the air blow around & in & out, as well as allow the light in, just not blinding sun beams in my face (yes, I know I may be deserving of the ethereal glow/halo, but it does get pretty warm).
And I'm sooo excited because there are mucho web sites that sell such things, more shapes & colors & glittery-goodness than I could imagine! Yippeee! Yes, I imagine certain styles may reflect even more light, but can you just picture how colorful & reflective they would be? Now I just have to decide which ones to get.
But later… must finish working… yes, later. See how I get off on tangents??
**couple days later here**
I think I've found the ones I want , but they're out of stock (of course). Will have some in a week or so… And they're really easy to cut & make them thicker, more dense. Look how easy… yippeee!