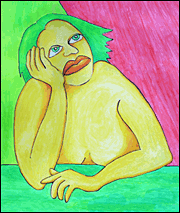 I'm in one of those occasional holding patterns waiting for current clients & a couple of new clients to send me their info. Yup, sent out reminders & am getting positive answers— "working on it right now!" "OH, definitely want to proceed!"— but it's not happening fast enough. I'm on a roll, I need to keep moving.
I suppose I could use this time to redo Ink2Art. Ideas have been percolating in my head for a couple of weeks now. Some of you may relate to the desire of wanting to redo your business site/portfolio, yes? Kind of  like rearranging the furniture in your living room, just want a change.
Granted, I have a billion business cards with my current design on them and a couple of t-shirts. No biggie I suppose. Heck, I still have one of my first business cards from about 10 yrs ago! Pretty funny looking now.
Maybe I'll get out of the office for awhile, we're having a heat wave today—60 degrees. woohoo.