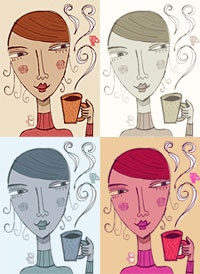 I am becoming increasingly irritated with my monitor's screen resolution.  I changed it to see how a client was viewing his new site with a high res setting, which was way too small for me  (2500 x something) and when I went to change  mine back to my previous settings – 1400 x 900 – I couldn't. No matter what I did it just wasn't happening. What the hell? Nothing else has changed. No new drivers, no updates to ANYthing. I am stuck with 1680 x 1050 (not ideal) vs 1360 x 768 (huge everything!).
I can read content ok, but things aren't as pretty as they could be to me. The majority of websites look like crap… patterned backgrounds not wide or long enough, sites that aren't centered. Heck, even some of my own site(s) aren't as attractive which compels me to redesign them, NOW.  It's throwing me off in my own design process. I usually average my sites to look best @ at least 1024 x 768 even though the current trend is 76% higher than that.
Along with the screen res issue, now that I have my laptop side-by-side with my desktop, the color differences in monitors is just as annoying. My large monitor is color calibrated, vibrant & saturated with stunning graphics, but when I cross-check sites on other computers the view is discouraging (and ugly).
What to do?
I realize that I have no control how everyone else views the web… their screen resolution, color settings and the browser that they use ( don't even get me started on browsers!), I can only do the best that I can. But this damn screen res setting on my pc definitely needs a solution asap!
Any suggestions? Anyone?