This little number is a teeny-tiny preview of what's to come from the awesome photographers that Jennie had for her wedding.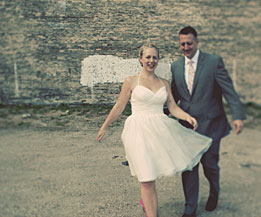 The photographers, Whitney & Jesse, were so wonderful & fun & accommodating. I wish I could hire them to spend a week in my life, and just take a bunch of photos whenever I wanted them to. Sort of a documentary of my life—in pictures… umm, that would be pretty damn exciting come to think of it. A web cam sitting on top of my monitor could do the thing. Yup, my life. At the desk. Silly me. Not that I'm complaining, not at all. I like my life and I like my desk. There just wouldn't be a lot of action shots, ya know?
What I was going to say about fonts, I don't think there's a font out there that I need anymore. Oh, of course I don't have ALL of the fonts that I ever ever wanted, but there's nothing *new* anymore, know what I mean? I was looking around for the font that I want to use on the redo of FMG, but I'm really not sure of what I want to do. Maybe when I have a better idea of the direction I'm going with the site, I'll know, but until then… nada. There's one font that I was in love with and purchased, but I have never ever used on ANYthing and I don't think I've ever seen it used anywhere else either. That would be the most logical… but it's pretty specialized… I'll think about it and let you know, k?
I'm currently designing a web site for a song writer who wants his mp3s on the site for both listening to and downloading, AND, he said the magic words regarding the design—"Do anything you want, the more creative and weird you can make it, the better!" Ooooo, fun. But you know what? Sometimes that can be more difficult. It's like creative overload! More decisions, more options, more difficult to decide, ya know? Sometimes that can be paralyzing for me—the deciding part. I just have to go with my gut feeling and stick with it. I have a tendency to try too many different things, and that can waste time, especially with me.
4 more days until the Woodstock Anniversary!