It really takes more time & thought to redesign my own web site than any others. Probably because I'm more critical of myself and what I do to represent myself than how I feel otherwise, ya know? Plus, I need to feel totally satisfied with it so that I don't have to do it again anytime in the near future.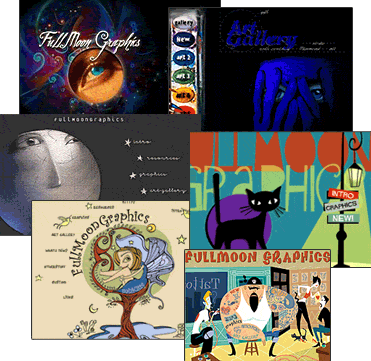 FullMoon Graphics has gone through a handful of revisions over the years (about 5 versions in 12 yrs…). I think the teal, retro-ish kitty was my fav. And it's looking a little worn out & dusty to me… heck, the present design is from 2004! whoa. No wonder I'm sick of it!
It will take awhile. I recently made a vow to myself to take more time out to tend to my own needs instead of working practically 'round the clock… and getting burnt out & less efficient. duh. *light bulb moment*
So ya. I have a tiny seed of an idea that I'm going to play around with… but I will guarantee that I will do my best to not look like a million other designs out there, k?