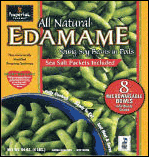 I am crushed. It's a sad, sad day… my staple (besides yogurt), my Imperial Edamame Beans are no longer sold at Sam's Club. My 4 lb box containing 8 perfect sized bowls of podded beans is nowhere to be found.
Seriously, at 99 cals & about 8 gms of protein, they were the ideal snack-a-rooni. Now what? I used to get about 4 boxes a month. Dagnabbit.
Oh well. I shall survive… just barely, but I'll try.
On another note – Windows 7. Mumsy bought a new pc and other than setting up the basics, I could have played with the new OS much much longer! Very cool at first glance. I don't know about from a working standpoint, but the shininess and newness was pretty slick. Personally, I won't convert until I get a new pc entirely. I'll be due in about 6 mths or so. Just the tower. The memory available now blows my mind. And I thought I was pretty hot stuff 3 yrs ago with 4 megs of RAM… ahhh, technology.
And finally – painting colors & my prints. Since we're remodeling Jennie's old room into a guest room, I am once again tormented by what color to paint the walls. Seems pretty cut n' dried – all neutral-ish except for one wall. The main "gallery" wall that I plan on hanging my Shag prints. I think I have 3 or 4 (yes, you know me & prints), but with all of the vibrant colors that he uses, I'm trying to remember which ones I have and of which "color scheme" they are. Actually, I think I have an orangey-pink-red one as well as an all-around blue, teal, greenish one, so I think it will be pretty much a crap shoot what color I paint the wall. Maybe a limey-but-not-blinding greenish… it's a very bright room… we shall see. I'll surprise us, k?
Alritey, time to make the donuts… OH, and if I don't see you, have a marvelous Thanksgiving!!