Well, it was… I set my clocks back already, and I was so excited because it was only 11:30, yippee! But that was over an hour ago, where did it go?? Honestly, how can an hour zip by so fast? You'd think I'd be used to that by now. geez.
OH my gosh, I had so many things I wanted to share with you, but now I feel rather discombobulated… racing against the clock (hyper much?!). ack!
So I came across this cool idea for making gift bows out of a magazine page. Isn't that neat? Imagine the possibilities! I feel like doing Christmas with a little more flair than I have the last few years, enough with the Scrooge. Maybe it's because we've now entered the world of having to share our daughter with her new family on the holidays, her in-laws. We get them on Christmas this year and will be "Skyping" with them on Thanksgiving. s'okay, that's the way it goes, right?
Did I tell you that we visited with Jennie & Brian 2 weeks ago? It was wonderful. And we got to meet their new greyhound, Doris. What a sweetie pie! I've never met a greyhound before and it was so different because we're used to a stocky, wide-nosed furbaby as opposed to a narrow, pointy nosed pooch. This is Doris. And you know Rosie, yes? A-n-d, you know what else was a little mind-blowing? They live right next to South Bend Indiana (Mishawaka), and the Notre Dame game played at home that weekend. My nephew Ben is a punter for ND, and it just so happens that my sister & niece were in town (from Florida) for the game and we didn't even know it. Imagine that.
Ho-hum. Ok, now I'm winding down. That's a good thing… time to get this butt to bed. THE GAME!! The SOOper hyped up, boo-or-cheer, Brett returns to Lambeau Field tomorrow as a VIKING! Can't wait to beat them. Go Packers, Go Aaron!!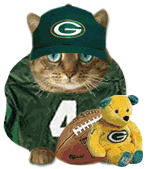 *whoops, just realized this kittykitty still has a #4 jersey on.
Oh well, you get the idea.
;)