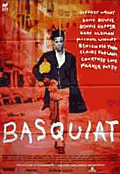 For some odd reason I feel like watching the (old) movie about Jean Michel Basquiat. When it made the rounds on cable awhile back, having seen it many times before, I didn't want to watch it again because it kind of bummed me out—made me sad (Similar to the feelings I had after viewing "Ray" with Jamie Foxx).
Maybe it's because our Milwaukee Art Museum just wrapped up an Andy Warhol exhibition, although I never particularly cared for Warhol's work.
Oh well, go figure. It's not on the horizon any time soon.
Here's a few random thingies about Basquiat for your perusal… hmm, why isn't Apture working? Well, how about I just do this….